My friend told me about it,  conference for students by students."You totally should come. Tricia is finally old enough to attend. Tech and kids…it's a fantastic day," she said.
Trusting her and her knowledge of great things and things my daughter would love (bonus: our girls would be able to hang out together and well the promise of technology…no brainer).  I signed my daughter up to attend the Buffalo Grove SIT Conference 2015.  Then I decided why should she have all the fun and I signed up to be a volunteered at the conference!
Bright and early on last Saturday morning my daughter and I drove to Buffalo Grove. There we would join hundreds of other 3rd-12th graders for a technology conference for students by students. To top that there would also be four other SIT Conferences going on the exact same day and time as ours throughout the state of Illinois!!!
At check in I was amazed at every detail that had been noticed. Every procedure and process had been put in place and thought of  to make sure this conference for students by students was safe for kids.  It would allow this all the students to be as independent as they wanted to be and have a real conference experience.
As quickly as the keynote started she was off with her friend to the sessions they had selected.  The conference had started and to say it was a beyond awesome experience would be an understatement…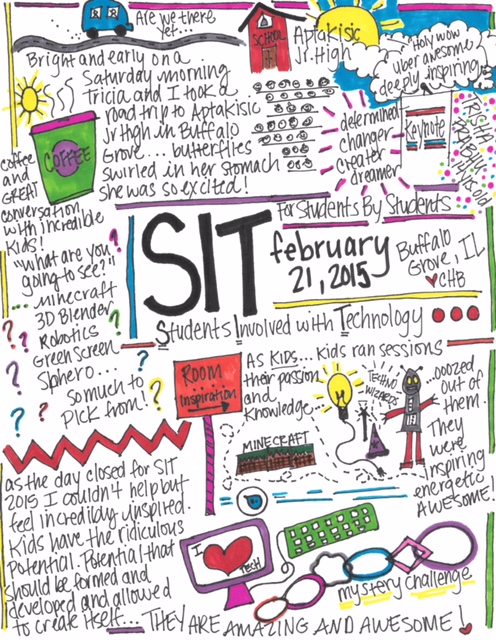 At lunch Tricia barely got a bite of food in as she talked non-stop about all that she was experiencing and learning she had done.
I honestly had never heard her talk so much in her life.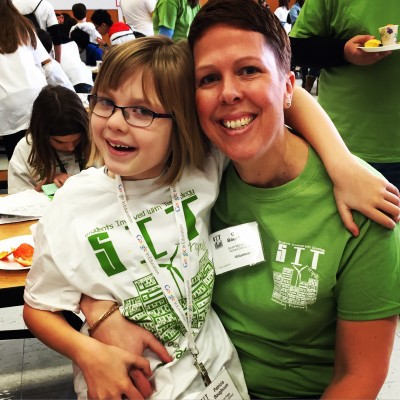 As we drove home from this fantastic event,  I looked in the review mirror to see Tricia's head leaning on the window… she was sound asleep.  I smiled.  I knew in that instant that we will forever support and be a part of this incredible day!!!