The tweet flowed through my stream.
Anyone up for an Easter weekend "Digital Drawing Challenge"?
"ooooooo I don't know?!! Maybe I could?!  I'm not the artist these people are.  I don't draw like they do.  I don't know…but what if?  What if I do?  It could be a lot of fun!  What if my drawing turns out ok? What if it's awful compared to theirs? What if its fun?  What if I do ok?" the thoughts, the words of doubt, the possibilities and the battle for bravery flowed through my head.
"I want to do it ," I tweeted excitedly!
The link to the challenge came through my twitter stream later the next week.  The prompt was inspired by the Wreck In Journal.  We would have to digitally create:  "figure out a way to attach these two pages together".  Ideas and thoughts for it danced through my head…"Oye, it also had to be digital.  I still can't find my comfort zone handwriting and drawing more complex pieces digitally…yuck.  I stink at them.  Pages…two pages joined together…hmmm.  Maybe I would get my daughters to pick a page from their favorite book and I would find a way to creatively join them.  Maybe I'll just take two pages and join them some how…hmmm.  Hmmmm."
So as  fantastic creative peeps and artists (and can I just share how incredibly warm, friendly, supportive and just as nice as a new artist could hope to find in this space) shared their imaginative creations I peaked in on them when I could and I spent time enjoying…. A sister's night, a birthday and an early easter celebration but even with all that wonderfulness…it left me with plenty of time to come up with an idea and very, very little time to draw it.
When the days finally slowed and time for me finally appeared, I sat down and digitally drew my interpretation of "attach these two pages together".   I decided that my joining of two pages would be inspired by me…be inspired by the me I have been working to embrace all year.  I decided to join the part of me I have known for sixteen years, known I have wanted to be since 5th grade and still love to my core doing and being everyday  and the part of me that is new, that I am learning to embrace equally and learning to allow it to enhance, infuse, electrify and color my life and my teaching more then it ever has before.
My interpretation of "attaching these two pages together"…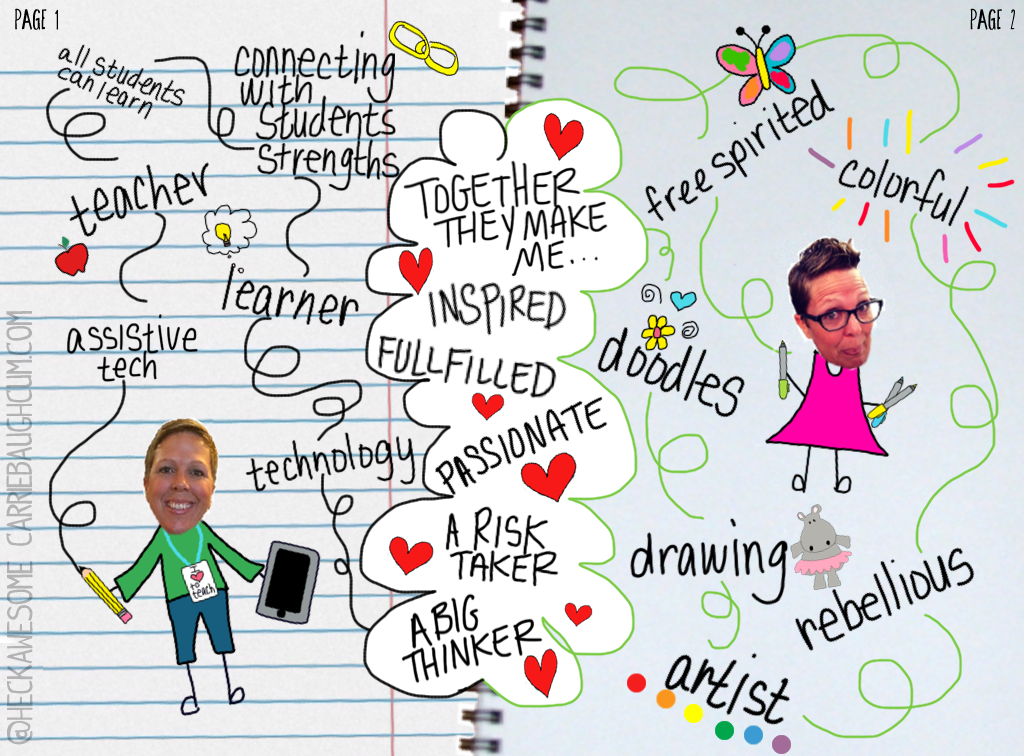 I had so much fun creating for this challenge.  While I love to draw, I generally only just draw my characters on the iPad. This challenge gave me a push to create it all on the iPad.  I learned that it is more time consuming than my pencil, paper and sharpie creations, that I need to maintain more layers for easier editing later and that I need to (like all things that need practice) create on it more and continue to practice my lettering and lines.  Most of all I am so proud of this super fun, colorful joining of the two pages of me! 

If you would like to check out these amazingly kind, welcoming, supportive, talented and  inspiring artists you can follow them on twitter via the #TodaysDoodle hashtag or here on their Twitter accounts:  Marc Bourguignon, Rob Dimeo,  Tracy Levasseur,  Lilpeanut,  Mauro Toselli, Dr. Makayla Lewis and Monica Lopez
Heck Awesome Comments
comments