The text pinged in on my phone (actually it we do wee wo so…yes yes… R2D2… Stop laughing…I know…I can't help it) 
TEXT: Can Francine come over for a playdate on Friday?
Francine had been dear friends with this little girl in kindergarten. The change in grades and then into different classrooms for 1st grade had made it tough for the friendship to continue to blossom.
I knew didn't even need to ask Francine (my 6 year old), though. I knew she would 100%, without hesitation want to go over to her friends house.
MY REPLY: Of course!!! She would love to see her!
As soon as my finger hit the send key my heart sank.  
What about Olivia (my 7 year old)?  
I would be at work and she didn't have a play date of her own.  She isn't going to like this!  Telling Francine that she has a play date and then telling Olivia…sorry sweetie you don't have a play date was NOT going to be fun!
Wait!
I thought for a moment. Olivia has her wonderful, long time, we only get to see on days off, since they go to different schools but are like kindred spirits friend…
Nahhhhhh
Sighhhhhh.
Wait… Maybe…just maybe….nahhhh.
Grrrr…
What was I going to do?!!
Maybe I could.
Nahhhhh I couldn't.
Could I??!!!…
I just got done telling Olivia that it is rude to invite yourself over to other peoples houses.
Sigghhhhhhhh
How am I going to do this without being rude??
So I took a deep breath and just said it like it was.  I texted Olivia's friend's mother and told her about Francine's play date. I explained the situation and how Olivia didn't have one.  Then I told her I knew what I was doing was very forward of me but I asked her please could she have Olivia over on Friday.  Then I apologized profusely for my forwardness and told her over and over again that I would make it up to her the next time there was a day off.   I knew I would owe her BIG!
In a couple of hours my phone rang (YES!  it was not a normal ringer…the popcorn song from the Muppets Movie….shut up!).
"Hello…."
It was Olivia's friends mother. Without hesitation, without concern for me to repay this favor, without any thought but that this is what friends do she said yes.  My heart lit up.  Olivia would be giddy to have a play date with her friend and my world of motherhood with two daughters would remain peaceful and drama free.  Most of all I was deeply moved by the selfless, each word that told me not to worry about it and overwhelmed me with her unconditional kind act she did without hesitation for me.
It is an act of kindness I will never forget.
It is an act of kindness I will seek to pay forward to other mothers.
It is a feeling I want other mothers to know and feel…that we are in this together. That we are here for each other. That sometimes we just meet people that are willing to without hesitate an unselfish act of kindness.
It is an act that I will be certain to share with someone else!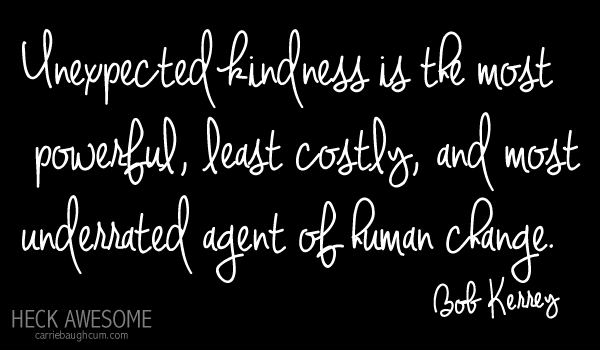 Heck Awesome Comments
comments