If you remember last year I ended the school year by gamifying my classroom using Monopoly…StarWarsopoly to be specific. Of the three gamification games (Super Mario Brothers, Angry Birds, Starwarsopoly) we tried last year, StarWarsopoly was by far the biggest hit with my students and the most successful. So as I ended last school year and began planning for this school year I knew: I wanted to gamify my classroom again, that the monopoly format was the one I was going to use, this time the game would run for the entire school year (last year we played three different games) and most of all I needed to get my game on this summer and really bring it this year!
With one goal in mind, to improve my gamification knowledge…to really bring it this year, I knew there was only one thing I could do…I played video games! You read that right! And I played a lot!  Hayday (oh boy I had to delete that game after about a month. Talk about seriously addicting…seriously! Played it way way too much) and Candy Crush (still playing it….boy I hate those chocolate levels but I love this cute fun puzzel game) were two of my favorites. While I loved playing all the games I tried out this summer and having tons of fun, I was also studying them. I took note of: What parts of it made it so enticing?, What made me want to play these games so much? What made me want to play it over and over again?
This is what I learned…
Each of these games:
Were well designed graphics / very appealing to the eye

Were Easy to follow and understand

Were Fun to play

Had the ability for the player to level up

Allowed the player to work for a new level with new different games, adventures, mysteries

Had Points I could earn

Had Things I could buy with my points

Had Bonuses (Level Bonuses and Random Bonuses)

Had Random Bonus days

Allowed me to connect with others in their part of the same game

Allowed me to use others who played the game as allies and resources
Once I wasted hours and hours and hours being sucked into all this fun and awesome my research was done, I had some great ideas for taking my classroom gamification to the next level this school year. With all this new knowledge in mind I channeled my inner gamer, brought my new skills and started building my game.  
Here is what how I did it and other resources/ideas I used to help me along the way…
1) PICK YOUR THEME
This is the super fun part…ok just one of the fun parts! Think of a theme. The game can be whatever you want it to be. It's can match your personality and/or your students. It can be based off of a board game, a video game or any other game you/your students love. For me (this year) I was going to use a Monopoly board/game as my basic structure with movies as my theme.
2)  DEFINE HOW POINTS ARE EARNED
My goal for points is to use them to reinforce positive student skills, good behavior choices and any other skill a
student might need positively reinforced. How points are earned by your students is up to you and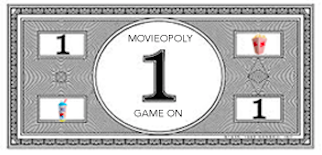 the goals you have for them. I also allowed my students 2 weeks to just earn point, with no game play. Delaying the start of the game would also allow my students to get a nice cushion of points to fall back on if they got in a rough spot in the beginning or later in the game. It also allowed them to have points to play and interact with the game as soon as they started.
3) DESIGN YOUR GAME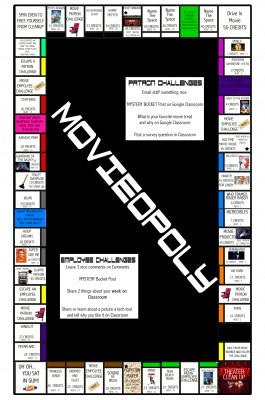 I was certain I would make the game a year long game. Just this one act will be huge! It will really help improve buy in, increase motivation and continuously push me to up my gamification game ( pun totally intended). After two weeks I introduced the game. Movieopoly. While I customized to board to match our theme, we play it just like you play Monopoly: players, rolling to move, different propertied (movies in our case) on each space, players purchase properties, other players are charged rent for landing on a purchased spot, players can build on purchased properties ect. Some differences to my monopoly game are: players are on one of two teams, movie employee or movie patron (what team players are on will become important later in the game) and  I added spaces that when landed on increase learning opportunities through challenges.  
4) ADD COMPONENTS OF THE GAME TO HELP YOUR STUDENTS REACH GOALS:
MYSTERY BONUSES: Initially, the focus in my classroom is to modify behaviors with positive reinforcement and structure. So in addition to points, students also work to keep tickets. Three tickets are on each of their desks. Tickets are kept by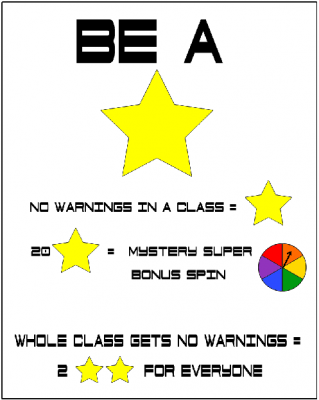 following classroom rules (tickets could be used for any purpose or goal) to improve student behaviors and their ability to manage their choices. Each ticket is worth 2 pts.(payed out the end of the period with a total of 6pts possible). Keep all three tickets and students get a star on their score board. 20 stars equals a BIG star and a chance to spin the Mystery Bonus spinner. Mystery Spinner Bonuses are not revealed to players and incentives that are on it are the most highly sought after, bigger bonuses.
CHALLENGES: Challenges are where I bring in the learning component for my students.  If a player lands on a challenge they have to complete that challenge before they can play again. My challenges are technology challenges and meant to expose them to and allow them to self teach technology I would not have time to get to during class time.
OTHER IDEAS FOR COMPONENTS TO ADD (other components that can be added and goals/learning can be attached to are)
Items that when bought add to property
Items that when bought add to what the player can charge/earn
Level up bonuses that require multiple tasks / behaviors to achieve and rew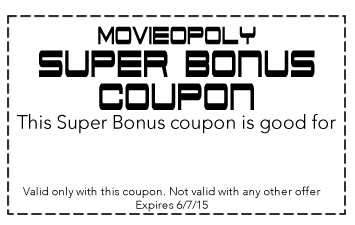 ard big pay outs
Badges can just add to the looks of a student's game board,  multiply the points they will earn or be exchanged for a special privilege
Coupons / Tickets / Random bonuses / Discoveries can add surprise and new energy to the fun of the game
Mystery Levels / Quests / Non-Mystery Bonus Levels add extra challenging skill requirements, tasks or learning projects for students to earn additional points / powers / badges

Create a Marketplace (ours is called the Concession Stand): Allow students to buy, sell, swap, trade with each other and with
you.  
5) SCORE BOARDS
Score boards share hold information about how a player is doing and show off to others what their opponent has that they do not. They can be as simple as a notecard displayed on a bulletin board or digital ( Schoology, usin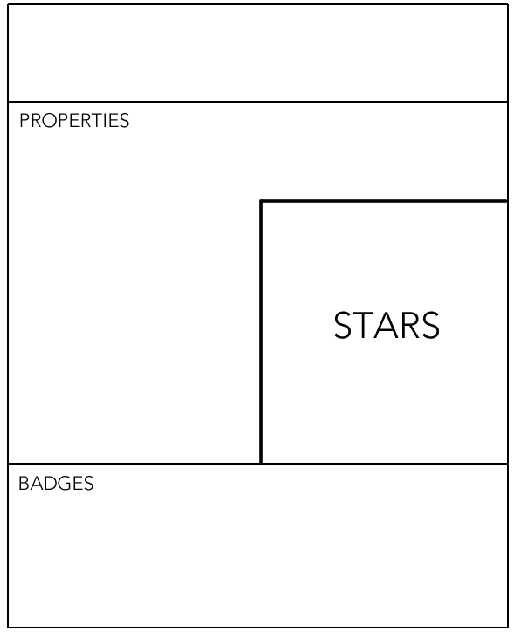 g GAFE tools etc.). I chose to use a bulletin board as my score board. XL notecards hold information about who the player is, how many stars they have earned and the properties they own. A month into the game (and as I planned to reveal more components of the game with them later  in the quarter) the game boards are 8×10, laminated and more flexible. The scoreboard is just as valuable as the game. It is the component of the game that will keep students wanting to play and reinforce your goals. When selecting the platform you are going to use to be your score board it is also important to make sure that it is something that you can easily maintain and update regularly. Not consistency and follow through from the game master (you) that the game will not mean anything to them!  
Three weeks into school, my mind channels my inner gamer and is already swirling and brewing new additions to our game. My students are excited every single time they get to play and consistently motivated to improve their student skills and behaviors (my current goals for them) every period, the entire day. I am just so very excited for where we are and where we are going! I can not wait to share more with you about how things are going throughout the school year.
Now it is your turn….Are you gamifying your classroom, a lesson, a project? Do you have ideas for gamifying your classroom? Do you have questions about how you can use the components of gamification in your classroom? I would also love to hear from you! 
Heck Awesome Comments
comments